Senior Housing in League City TX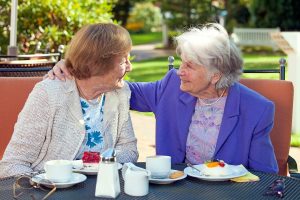 If your loved one has decided to move to assisted living recently, they could be leaving more than just their home of memories behind them. They could also be losing social connections they have with friends or neighbors. Moving into assisted living where you aren't familiar with the environment or people can be a bit intimidating. The following are fun ways to meet new people while living in senior housing:
1. Planned activities.
There are many benefits to assisted living and one of them is the variety of planned activities they offer. This is a great way for your loved one to not only meet new people but also to partake in a hobby or activity they enjoy.
Meeting new people over a common interest is a fun and easy way to connect.
2. Strike up a conversation with others in the dining room.
Jump right in and introduce yourself to others. As a new resident, asking questions about the assisted living facility can be a way to break the ice and get a conversation going.
If you are a bit more reserved when it comes to meeting others, invite a family member to join you. This might help you to feel more confident in talking to others.
3. Take a walk.
Many assisted living facilities have nice walking areas. Roam the halls or garden walkways and greet those you encounter on your journey. A smile on your face and a friendly hello is inviting and will often relay to others your willingness to engage in conversation.
4. Arrange a movie night.
This may require a little help and cooperation from the staff but if there is an area that could be used for entertainment, you may want to suggest some old films. You can either make up a notice or have the staff help you get the word out to others and enjoy a classic film and discussion afterwards.
5. Game night.
Just because we grow up and age, doesn't mean playtime has to end. Numerous seniors enjoy playing cards, board games, bingo, and other recreational games. See who would be interested in having a game night and let the fun begin.
The assisted living environment is perfect for meeting new friends if you choose to take advantage of all that it has to offer. If you choose to sit in your room alone and not enjoy the benefits a place like this offers, then it will be hard to make new friends.
If you or an aging loved one are considering senior housing in League City, TX, please call and talk to the caring staff at Serenity Gardens at 832-315-3219.
Assisted Living Specializing in Alzheimer's & Dementia Care Serving League City, Webster/Clear Lake, Friendswood, Dickinson, Galveston, Kemah, Houston, Texas City, Santa Fe, La Marque.